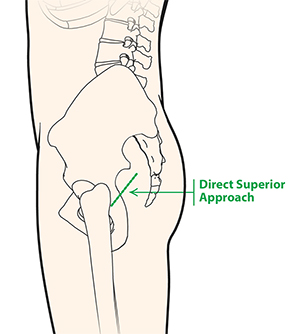 The Direct Superior Approach offers a multitude of benefits, including:
Reduced post-procedural occurrence of hip dislocation
Earlier ambulation minimizes complications commonly seen with traditional hip replacement (i.e. blood clots and muscle fatigue
No hip precautions after surgery—many patients resume normal activities much earlier than expected and the whole recovery process is much faster and less painful than with traditional techniques
Requires only one small incision in the hip, leaving muscles and tendons undamaged and preserving the hip's natural alignment
Less leg manipulation and less soft tissue damage allows for earlier return of function, less pain, and greater stability after hip replacement
Accurate implant positioning is achieved, which allows for longevity of the hip replacement
Enhanced recovery only requires one night hospital stay (may be performed on an outpatient basis)
More comfortable recovery period, with minimized pain medication requirements
Minimization of blood loss (compared to traditional hip replacement techniques)
Fewer incidences of complications during and after surgery
We understand that making sure you know what to expect from the hip replacement experience is important to you. If you have additional questions as you are reading through this material, please reach out to us to discuss.
Diagnosis and Treatment of Hip Pain
Each patient is unique, and can experience hip pain for different reasons. It's important to talk to us about the cause of your hip pain so you can understand the treatment options available to you. One common cause of hip pain is arthritis, a degenerative condition that involves the breakdown of cartilage and bones in the hip joint. Pain from arthritis and joint degeneration can be constant or come and go, occur with movement or after a period of rest, or be located in one spot or many parts of the body. If you haven't experienced adequate relief with medication and other conservative treatments, hip replacement may provide you with relief from your arthritis.
Total Hip Replacement
Total hip replacement involves removing arthritic bone and damaged cartilage in the hip joint, and replacing them with an implant. The hip joint is generally described as a ball-and-socket joint. Take a look at how the end of the thigh bone (femoral head) is replaced with a metal stem and an artificial ball that is secured to the top of the stem. The hip socket (acetabulum) is reconstructed, typically using a metal cup lined with a durable plastic (polyethylene). The femoral and acetabular components work together to form the artificial hip implant.
The field of joint replacement surgery is constantly evolving, and new technologies are making total hip replacement surgery a safe, viable option for a growing number of patients. Dr. Lige Kaplan is excited to offer the Direct Superior Total Hip Replacement procedure, a micro-invasive surgical technique that incorporates state-of-the-art technology, and has a remarkably high record of successful outcomes. Dr. Kaplan is one of a few surgeons in the country offering this latest muscle sparing procedure for hip replacement.
Dr. Lige Kaplan is currently only one of a few surgeons in the Metro-Detroit area offering the revolutionary Direct Superior Approach to total hip replacement. This procedure avoids forcing the patient's leg into an abnormal position during surgery and prevents damage to any of the patient's muscles and tendons. These surgical technique modifications minimize soft tissue damage and effectively shorten the requisite post-surgical recovery period, enabling patients to resume the activities they enjoy with less down time.
Procedure and Recovery
For the direct superior hip replacement approach, Dr. Kaplan will make a single incision on the outside of the hip in the buttock region. This will allow adequate exposure to perform the surgery accurately and with very little soft tissue damage. No muscles are cut during this procedure. Dr. Kaplan will work through the small incision and meticulously work to preserve the muscles around the hip joint, in order to place the hip implant with the least amount of soft tissue trauma as possible. After securely placing the implant, Dr. Kaplan will repair the hip capsule and skin to facilitate proper healing and prevent dislocation of the hip.
After surgery, most of Dr. Kaplan's patients are up and walking with minimal use of an assistive device in as little as 2-4 hours. Most patients have minimal post-operative pain, which can easily be controlled with tylenol and celebrex. Dr. Kaplan has also employed the use of Tranexamic Acid in his patients. This revolutionary medication has been extensively studied in patients undergoing hip replacement surgery. It has been shown to significantly reduce post-operative swelling, bleeding and has virtually eliminated the need for blood transfusions after surgery. In addition, tranexamic acid has been shown to be very safe in the vast majority of patients. Dr. Kaplan's patients usually only stay one night in the hospital and are discharged to go home the next day after surgery! This new approach requires less muscle dissection, yet still effectively stabilizes the hip region. There are no staples or sutures to be removed after surgery, and patients are not limited by post-surgical restrictions or hip precautions. Most patients are able to discontinue the use of an assist device within 3-5 days after surgery and are walking normally within 2-3 weeks!
Unlike traditional hip replacement surgery physical therapy is a typically not needed as there is minimal soft-tissue injury with the Direct Superior Approach to the hip. Obviously, recovery will vary based on individual experience and Dr. Kaplan will work with you to create a customized recovery plan to incorporate physical therapy if necessary. You will learn specific exercises after surgery to help increase your range of motion and restore your strength.
Direct Superior Approach
Your surgery may be performed using the Direct Superior Approach, a minimally invasive surgical technique used in total hip replacement. This technique may be associated with:
reduced muscle damage
smaller incision size
enhanced post-operative recovery
What are the differences between the Direct Superior Approach and a traditional hip replacement? One difference is the location of the incision. During a traditional hip replacement, the surgeon will make an incision through the IT band, which is a muscle that extends down the outside of your leg from the pelvis to the knee. In a Direct Superior procedure, the surgeon avoids cutting the IT band. Another difference is the length of the incision. Traditional hip replacement may require an 10-12 inch incision while the incision used in the Direct Superior Approach may be 3-6 inches in length.

IMPORTANT INFORMATION
Hip Replacements
Hip joint replacement is intended for use in individuals with joint disease resulting from degenerative and rheumatoid arthritis, avascular necrosis, fracture of the neck of the femur or functional deformity of the hip.
Joint replacement surgery is not appropriate for patients with certain types of infections, any mental or neuromuscular disorder which would create an unacceptable risk of prosthesis instability, prosthesis fixation failure or complications in postoperative care, compromised bone stock, skeletal immaturity, severe instability of the joint, or excessive body weight.
Like any surgery, joint replacement surgery has serious risks which include, but are not limited to, pain, bone fracture, change in the treated leg length (hip), joint stiffness, hip joint fusion, amputation, peripheral neuropathies (nerve damage), circulatory compromise (including deep vein thrombosis (blood clots in the legs)), genitourinary disorders (including kidney failure), gastrointestinal disorders (including paralytic ileus (loss of intestinal digestive movement)), vascular disorders (including thrombus (blood clots), blood loss, or changes in blood pressure or heart rhythm), bronchopulmonary disorders (including emboli, stroke or pneumonia), heart attack, and death.
Implant related risks which may lead to a revision of the implant include dislocation, loosening, fracture, nerve damage, heterotopic bone formation (abnormal bone growth in tissue), wear of the implant, metal sensitivity, soft tissue imbalance, osteolysis (localized progressive bone loss), audible sounds during motion, and reaction to particle debris.
The information presented is for educational purposes only. Speak to your doctor to decide if joint replacement surgery is appropriate for you. Individual results vary and not all patients will return to the same activity level. The lifetime of any joint replacement is limited and depends on several factors like patient weight and activity level. Your doctor will counsel you about strategies to potentially prolong the lifetime of the device, including avoiding high-impact activities, such as running, as well as maintaining a healthy weight. It is important to closely follow your physician's instructions regarding post-surgery activity, treatment and follow-up care. Ask your doctor if a joint replacement is right for you.
Testimonials
Apr 4, 2017 by Irene on Direct Superior Hip Replacement Direct Superior Hip replacement by Dr. Lige Kaplan
My experience with Dr. Kaplan ( recent right hip replacement using the DSA) was beyond my expectations. Dr Kaplan was reassuring,informative and most importantly did an excellent job. My pain level has been minimal, my scar looks clean, my gait is pretty normal (this is only one week out). I will refer and recommend Dr Kaplan to all! 5 STARS!
Related Videos
Direct Superior Hip Replacement with Dr Lige Kaplan
Related Topics: